The First Annual Tombstone Film Festival
January 27th – 29th, 2023
Welcome to the Inaugural Tombstone Film Festival, presented by 12 Westerns in association with Tombstone Forward.
The Tombstone Film Festival has been created by John Marrs and Travis Mills to showcase the best Western feature and short films in America's most iconic Western town. The event will include screenings of selected films, panels, a special opening night event, and closing awards party.
All selected filmmakers will receive two VIP passes which includes admission to all screenings, festival events, and the awards ceremony.
Submit your work for our first annual festival and we will see you in Tombstone this coming January!
Awards
We will present a total of ten awards this year:
Best Western Feature Film
Best Western Short Film
Best Actor
Best Actress
Best Screenplay
Best Horse
Best Stunt
Best Fist Fight
Best Costumes
Best Guns
Each winner will receive a Tombstone-shaped trophy.
Rules
Please read the following rules for submitting to our festival:
If accepted, filmmakers must supply a digital copy of your film. Failure to timely supply files can lead to disqualification.
1. All submissions must qualify as Westerns. This includes variations on the Western genre such as comedic westerns, horror westerns, documentary westerns, etc.
2. The Tombstone Film Festival Entry Fees are non-refundable.
3. There are no premiere requirements and the film may be available online prior to screening at the festival. However, we only accept films made no earlier than 2020.
4. All films must be in English or subtitled in English.
5. Only one submission is permitted per filmmaker. Submit your best and only your best!
6. It is the sole responsibility of the Applicant to secure clearance from the copyright holders of any copyrighted materials included within the submitted Film. The Tombstone Film Festival will not be held responsible for the unauthorized inclusion of any copyrighted materials within or relating to the submitted Film. The festival reserves the right to disqualify, without refund of any or all submission fees previously collected from the Applicant, any Film with any unauthorized inclusion of copyrighted materials.
7. Filmmakers accepted and attending the Festival are responsible for travel, lodging, and all other expenses. However, the festival may provide discount rates for lodging if possible. As stated above, each selected film will receive two free VIP passes.
Our Venue
The Tombstone Film Festival will take place at Schieffelin Hall in Tombstone, Arizona from January 27th through the 29th, 2023. All screenings will take place inside Schieffelin.
Click Here to Visit the Schieffelin Hall Facebook Page
Schieffelin Hall is located at 402 E Fremont St, Tombstone, AZ 85638
The City of Tombstone
There is no better place for a Western film festival than Tombstone, Arizona. Home to many historical sites, great saloons, vintage shops, and fun living history events, Tombstone is the Western fan's ultimate destination.
Our screening venue is walking distance from all these main street attractions. Click Here for More About Restaurants, Hotels, etc. in Tombstone.
Our Opening Night Presentation
We are excited to announce our opening night film for The Tombstone Film Festival, a special showing of TERROR ON THE PRAIRIE, starring Gina Carano, Nick Searcy, and Cowboy Cerrone on January 27th. Admission to this screening will be granted to festival pass holders ONLY.
This new Western, produced by Bonfire Legend and The Daily Wire will play out of competition to open our festival. It's your exclusive chance to see the film on the big screen.
Announcing Our Official Festival Sponsors!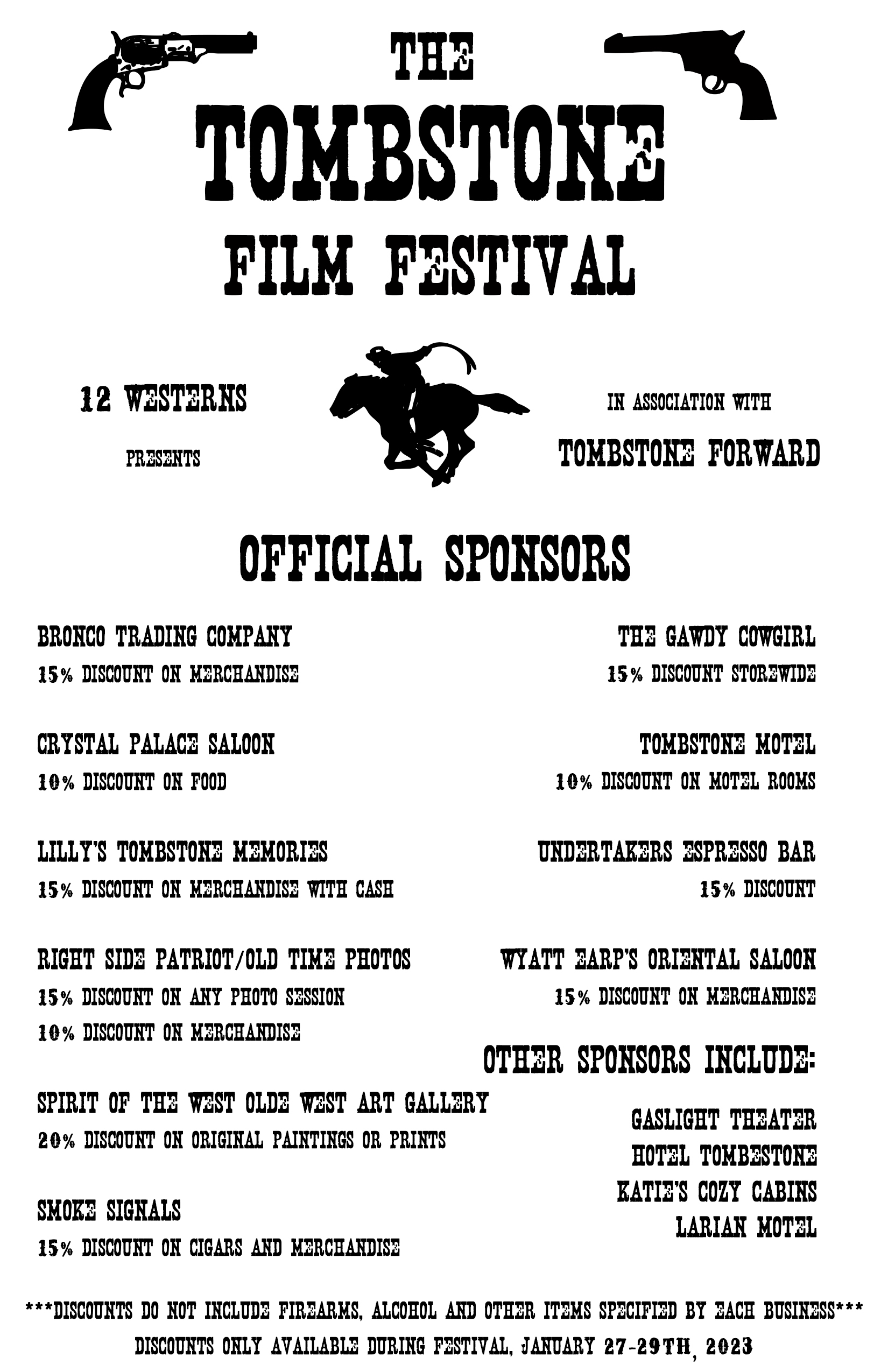 More Info
Please contact us if you have any questions about our film festival. You can use the contact form here or email Festival Director Travis Mills directly.
Email: travismills@runningwildfilms.com