Each Monday, I continue to share Western movie reviews. I have now launched a podcast about the making of Westerns and the overall filmmaking process. Click here to listen.
Week 169: The Train Robbers (1973)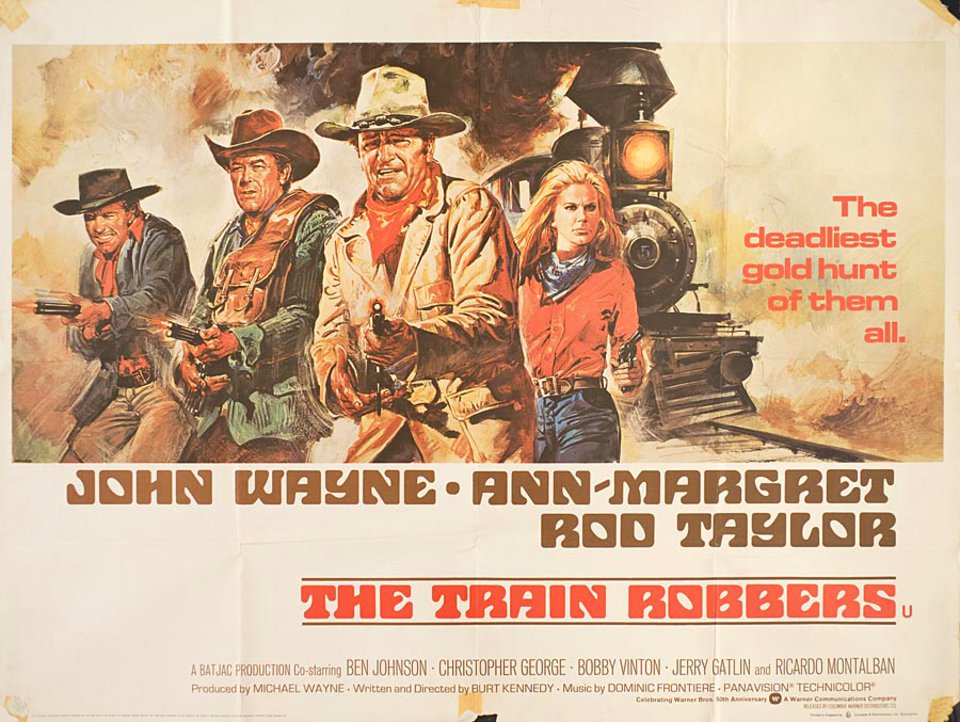 It's interesting to read other reviews and see this movie lumped into Wayne's less impressive later work or hear it called "just another John Wayne movie". I hate that phrase to begin with since most Wayne pictures are quite different from each other. When I look at his filmography and focus on the last decade, I'd tell another story: after making a string of disappointing Westerns between 1967 and 1970 (El Dorado, The War Wagon, The Undefeated, Rio Lobo) and winning the Oscar for not his best performance in True Grit, Wayne made three of his best movies between 1971 and 1973. Those would be Big Jake, The Cowboys, and The Train Robbers.
Yes, the Duke is in top form here with a good script to work with, written by Burt Kennedy who also delivers one of his career best jobs. Not since he wrote some of the tightest Western screenplays for Budd Boetticher has Kennedy's dialog sounded so right. With Wayne's weathered delivery, its sometimes poetic. Take for instance the scene when the wild bunch rides all day, reaches a town at the end of the night, hopes to rest, only for Wayne to call attention the sound of a crying baby. "Do you ever bury a baby, Jesse?" He asks Ben Johnson. As Roger Ebert pointed out in his review of the time, it's not a line most actors could say without getting a laugh but out of Wayne's mouth (and with Burt's direction) it's one I won't forget. In another scene, there seems to be an awkward attraction forming between Ann-Margaret and the Duke. I found myself cringing, wondering if they were really going to sell this old-young romance when Wayne says, "I got a saddle that's older than you are." The way he says it is kind too, cutting through any notions Margaret or the audience may have of his intentions.
Another scene I loved features an introspective conversation between Wayne's Lane and Christopher George's Calhoun, who plays the most unpredictable of the group. After telling Ann-Margaret what gold can do to a man and saving a horse in a spectacularly staged rain sequence, Lane tells Calhoun that he's sorry and that it gets a lot harder to say that the older he is. Again, not since he wrote for Budd has Kennedy's dialog been this poignant and if there's any film of his that feels like a Boetticher picture, this is it. It's a story about people coming to understand each other as much as it is about gold and robbing trains. My main complaint about the film would be a lack of time it spends with Bobby Vinton, who is barely there, and Rod Taylor, set up as a wild card character who is never fleshed out. The climax is a bit too heroic and could have used some tragedy but ultimately the action, especially the wrecked train set piece, is handled with incredible skill.
Was Kennedy at his best when making men-on-a-mission movies? With only a few more of his Westerns to watch, I detect that trend in his work and plan to write about it more in my book. This is certainly one of his strongest movies. It may not be a "classic" but contrary to what you may read in other reviews, this is not just another John Wayne movie.