Each Monday, I am sharing reviews of Westerns I studied to prepare for making 12 Westerns in 12 Months during 2020. I am watching these films not from an audience perspective but as a filmmaker, as a student of the genre.

Week Three: Bury My Heart at Wounded Knee & Last of the Line
Bury My Heart at Wounded Knee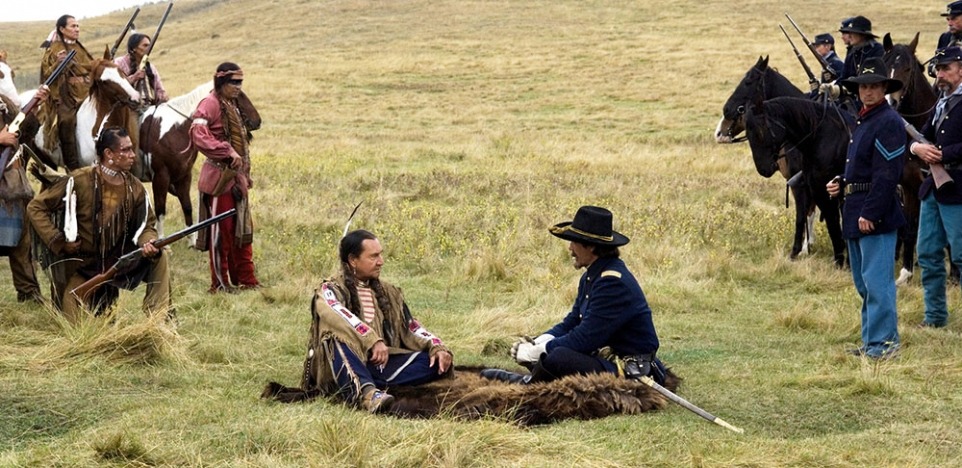 This film is often hard to watch, in a good way. Much of the beginning and ending are disturbing, haunting even, in the portrayal of the Native Americans' plight.
The middle of this film, which feels three hours long instead of just over two, does lag and lose its potency. Though I can't quite put my finger on why, the film gets a little lost in all its characters and subplots. It might have benefited from being shorter with less going on or longer with more time to expand on all its characters.
The cast is all on point but Schellenberg's Sitting Bull is a highlight. He steals every scene he's in and I'd like to see more of his work. Aidan Quinn also does a great job of depicting a man who causes so much trouble with all the best intentions.
Overall, this must be one of the best films about the experience of the Native Americans.
Seen on DVD.

Last of the Line
This is an impressive and surprisingly tragic silent work. The story has the kind of ironic, biting sadness of great literature.
I am also continually intrigued by action in silent films, which works so well without moving the camera. The blocking within the shots is enough to keep me engaged and often thrilled by what I'm seeing.
The portrayal of Gray Otter is moving. I wish though that he'd be given a close-up as John Ford gave his lead actors in the most important moments.
This is well-worth seeing and makes me want to explore more of Ince's work.
Seen on YouTube.

-Travis Mills
Follow progress on our 12 Westerns in 12 Months here on Facebook.